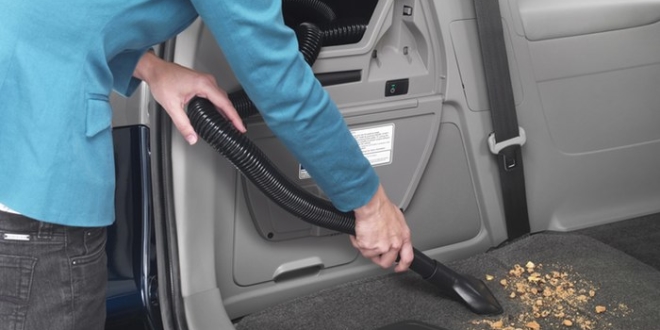 Your car is starting to look a little scary. There are papers and wrappers hiding under the seat, and a faint smell of something that's part french fry, part B.O. You're not sure exactly what it is, but it's got to go. Here are some tips for keeping your car fresh and clean, even if you use it for work and drive 20 miles both ways.
Clean Up Spills Immediately
Cleaning up spills immediately will save you a lot of time, and money, later. You could circumvent the mess by not eating or drinking in the car at all. But, if that's not feasible, then keep cleaning supplies on hand in the glove box.
At minimum, you'll want a Tide pen (or something similar) for stains, a Mr Clean magic eraser (also for stains) and a rag.
If you've spilled something like coffee in the car, dilute it immediately with some cool water and blot it out with paper towels or the rag. If you didn't catch the stain immediately, use glass cleaner. Soak the stain in it and let it sit for about 5 minutes. Then, blot it with the rag.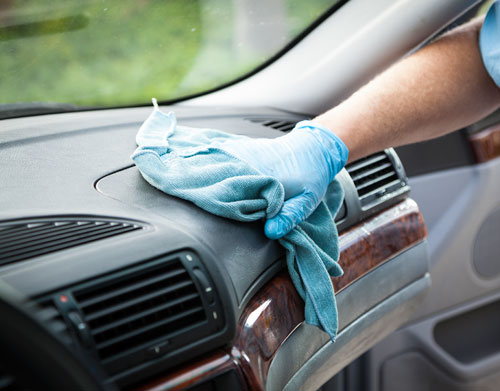 Glass cleaner is really good on all types of carpet and upholstery and will get out the most stubborn of stains.
And, it doesn't leave a sticky or soapy residue like soap will.
You can also place a barrier between the seats and you – a Shear Comfort seat cover, for example. Then, if the seat cover is ruined, it's cheaper to clean and replace than the seat itself.
Other stains can be lifted from the carpet with either the magic eraser, the stain pen, or a paste made of laundry detergent and water.
Get Organizers For Your Car
Get plastic totes to put in your trunk and keep things in there that you don't need daily but may need on the road. Get over-the-seat organizers so you can put pens or other odds-and-ends in there. Keep a trash bin in the vehicle for trash (these usually sling over the passenger's seat, toward the rear seats).
Really, you should try to keep clutter to a minimum in the vehicle. After all, what else is more important than keeping your eyes on the road?
Get cell phone caddies and mounts so you don't have to fiddle with them while driving. And, turn off the radio unless you need to listen to it for news or weather reports. If you're bored, and need to listen to music, keep the volume reasonable so you don't get distracted.
Pay Someone To Clean It
If you won't clean it yourself, pay someone $30 to do it for you. That should get you a good vacuuming, a wash, and wax. Of course, if you do it yourself, you'll spend the afternoon doing it the first time, but you'll have a clean vehicle and no money shelled out to a car wash and detailing place.
Clean it once a week, and you won't have to spend a lot of time doing it. Probably an hour, if that. Clean it once a month, and it'll turn into an afternoon or weekend project.
So, stay on top of it.
Jodie Mason works at a cleaning company by day. By night she enjoys blogging. Her articles normally focus on cleaning tips and appear on Mom lifestyle blogs mostly.